Tax Credits for Replacing Windows, Doors, and Skylights
By: Gil Rudawsky 
Do you Qualify for the Tax Credit?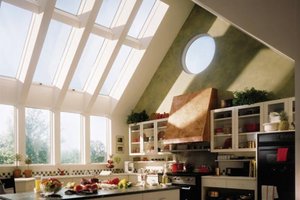 You might be able to keep at least some of that cash in your pocket by taking advantage of federal energy tax credits for retrofitting your house with qualified energy-efficient replacements. You can claim a tax credit of up to $1,500 for upgrading the windows, exterior doors, and skylights in your primary residence during 2009 and 2010.
The credit is based on 30% of the cost of materials, so a $5,000 purchase would max it out. But a tax credit alone isn't reason enough to start calling contractors. Do a little homework first. The true value of replacing aging windows, doors, and skylights isn't always an open-and-shut case.
Follow the 15-year rule for windows
A good rule of thumb for window replacement: Don't bother if they're less than 15 years old, says Jim Rooney, a home inspector in Annapolis, Md. The savings on your energy bills likely will be negligible since window technology hasn't changed that radically and the integrity of your windows should still be intact. Shoddy installation or poor manufacturing may call for exceptions to the 15-year rule. Windows that are 20, 30, or more years old are prime candidates for replacement.
Taking advantage of the tax credit
A credit is especially valuable because it directly reduces the amount of tax owed, as opposed to a deduction, which lowers the amount of taxable income. To be eligible for the full credit you must owe more in federal taxes than you're trying to claim. Use IRS Form 5695 to take advantage of the credit, which is cumulative for 2009 and 2010 only. You can't claim $1,500 for each tax year, but you can spread the $1,500 over the two-year period.
Uncle Sam may want proof that your new windows, doors, and skylights meet energy-efficiency standards, so be sure to save receipts, product stickers, and certification statements. The latter can often be found on packaging or manufacturers' web sites. As for receipts, ask contractors to itemize expenses. Installation costs aren't eligible for the credit; only materials are.
This information was brought to you by JoAnne Staler, Nashville  TN REALTOR with RE/MAX Elite.  JoAnne is providing a unique level of service to  home buyers and home sellers in Nashville, Brentwood, Williamson County and Franklin, Tennessee.  Whether Buying or Selling Real Estate locally or Relocating to Middle Tennessee, let a Top Selling Real Estate Agent help.  To find out more about JoAnne Staler or search for real estate via the Nashville Tennessee MLS visit http://joannestaler.com/.
No matter what your price range JoAnne Staler can help you find your Nashville TN dream home.  Click here to recieve automatic emails of new listings that fit your home buying criteria.